Verrucae
These are synonomous to warts, except that they tend not to protrude beyond the level of the surrounding soft tissue, by virtue of the fact that our body weight ensures that they are pressed into the skin. Verrucae are not necessarily painful but can be particularly so, if they are under a prime weight bearing part of the foot eg heel or ball of the foot or if they are left to grow to such a size that they feel like a foreign body. While verrucae can go away on their own, they are more than likely to actually get bigger and thus be more painful. The larger they are, the more difficult they can be to treat. Many factors must be taken into account before deciding on the type of treatment for verrucae for example , the age of the patient, their skin type, their quality of periferal circulation etc. Patients who are very young (below thirteen years), or who are very fair skinned, have poor periferal circulation eg diabetics or patients who are immuno suppressed would be generally considered as unlikely candidates for cryosurgery.
Treatment
Generally in our practice the vast majority of our patients are treated with acid paste. This is a fairly painless way of eradicating the verruca(s). For the more stubborn verrucae and those that would prefer the more fast track treatment, cryosurgery is used (on those that would NOT fall into the categories above). This treatment is not for the feint hearted however as it can be very painful.
Cryosurgery relies on the clinician freezing the verruca with liquid nitrogen (which is minus 192 degrees) so that a frost ball develops. The walls of the verruca cells then tear apart under such extreme cold temperatures, thus developing a blister thereby destroying the verruca.
For further information on verruca's or other conditions and services please call 01227 360940 / 01795 430020 / 07985014566 or send us an email info@hernebaychiropody.co.uk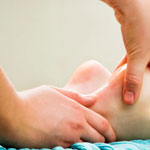 Our Services
Conditions Treated
All nail conditions (in growing, thick, fungal etc.)
Soft corns
Cracked skin
Circulatory diseases
Achilles tendonitis
Pronation
Supination
Tired / aching feet
Foot strain
Metatarsagia
Get in Touch
01227 360940
01795 430020
07985014566
Area we cover
Herne Bay Whitstable Canterbury Sturry - Blean Faversham - Westgate - Tankerton - Medway towns