Morton's Neuroma
This is a condition which arises in the fore foot and is exceedingly painful. Most commonly the pain arises in the cleft between the 3rd and 4th metatarsal phalangeal joints, though can also be found between the 2nd and 3rd and 1st and 2nd (metatarso phalangeal joints). The pain is normally transient appearing from "nowhere" and be so acute the patient may describe having to take their shoe off and massage their foot vigorously in an attempt to relieve the symptoms. The actual pain is brought on by a swelling on the nerve fibre (running between the metatarso phalangeal joints) being pinched by the adjacent bones.Usually this condition is brought about when the patient is wearing footwear and indeed is commonly caused by footwear that is too tight. It would therefore come as no surprise to discover that the vast majority of people I have seen with this condition are women who are usually wearing slip on shoes, court shoes or very often shoes with a heel over an inch and a half. Very often the patient finds it incomprehensible that the shoe that they love could possibly the one that the clinician feels is the one responsible for all their misery! On the occasional chance that a man attends the surgery with this condition he is normally wearing a slip on shoe (which is usually tapered in the toe box), a steel toe cap boot or a golf shoe. A simple test to see if the shoe is too tight (and thus creating the Morton's Neuroma) is to get the patient to stand on a piece of white cardboard, draw around the foot and then cut this template of the foot out and place it in ALL the patient's commonly worn shoes. If the template meets resistance in the end of the toe box the shoe is too tight and therefore could be considered as a probable cause of the misery.
Treatment of Morton's Neuroma
After diagnosis, the patient should find that a change in their footwear would make a profound difference to the condition. However this may not always be the case. Sometimes it is helpful to apply padding to the foot as an experiment for a few days to see if this can change the weight bearing pattern of the foot in such a way that it may relieve the pressure on the nerve in question thus providing relief. In such circumstances a successful outcome could suggest that an insole / orthotic could be the answer to this patients problem. If after following this approach (broader footwear / insole /orthotics), there is no relief of the condition, the podiatrist might suggest a steroid injection (in the cleft space of the affected nerve) . This injection may be repeated (as required) several weeks later to hopefully optimize the outcome. In a few very rare conditions of Morton's Neuroma the patient may finally be recommended that they be referred for surgery to excise the neuroma.
For further information on Morton's Neuroma or other conditions and services please call 01227 360940 / 01795 430020 / 07985014566 or send us an email info@hernebaychiropody.co.uk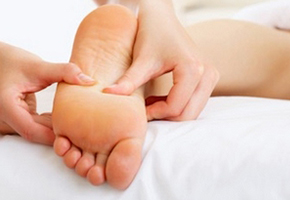 Our Services
Conditions Treated
All nail conditions (in growing, thick, fungal etc.)
Soft corns
Cracked skin
Circulatory diseases
Achilles tendonitis
Pronation
Supination
Tired / aching feet
Foot strain
Metatarsagia
Get in Touch
01227 360940
01795 430020
07985014566
Area we cover
Herne Bay Whitstable Canterbury Sturry - Blean Faversham - Westgate - Tankerton - Medway towns