Rheumatoid arthritis
This is a condition which unlike osteo arthritis tends to affect numerous joints as well as the soft tissues of the body eg the cartilage surfaces of the joints, the ligaments, blood vessels nerves etc. Rheumatoid arthritis is an auto immune disease which commonly affects the small joints first, especially those in the fingers and toes which gradually become bulbous and deviated if left untreated. Those joints can become hot, swollen, stiff and acutely painful. As the condition advances the foot will tend to lose its arch (which then becomes flat), develops a bunion, very hammered stiff toes and enlarged metatarsal phalangeal joints (see the ball of the foot).
Treatment
All these deformities can give rise to acute pain if left unchecked. It is vital for the podiatrist to employ his/her skills to ensure the reduction of pressure over/under/around the deformed joints of the rheumatoid patient. This can be achieved by padding and strapping, the creation of rubber (silicone) moulded devices around the painful digits, the fabrication of custom made insoles to alleviate areas of intense pressure (usually under the metatarsal heads) and referral for custom made shoes. In the last decade there have been an explosion in the number of wonderful materials that are used by technicians to provide comfort for the rheumatoid patient.
As a footnote to this condition I would like to add that in 35 years of practicing as podiatrists, my wife and I are adamant that the number of seriously deformed rheumatoid arthritic feet have dropped dramatically over the decades. The impact of new drugs to treat the condition have had amazing results in keeping its symptoms in check. Prompt diagnosis and early intervention in this disease are vitally important and the role of the podiatrist within the team that treats a rheumatoid patient cannot be underestimated.
For further information on rheumatoid arthritis or other conditions and services please call 01227 360940 / 01795 430020 / 07985014566 or send us an email info@hernebaychiropody.co.uk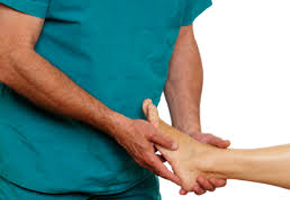 Our Services
Conditions Treated
All nail conditions (in growing, thick, fungal etc.)
Soft corns
Cracked skin
Circulatory diseases
Achilles tendonitis
Pronation
Supination
Tired / aching feet
Foot strain
Metatarsagia
Get in Touch
01227 360940
01795 430020
07985014566
Area we cover
Herne Bay Whitstable Canterbury Sturry - Blean Faversham - Westgate - Tankerton - Medway towns