Nail surgery
It is important to be clear about two types of nail that the patient will describe as ingrowing.
Type 1.
There is the toe that is exceedingly painful with an ingrowing toe nail that is swollen, very inflamed and often septic. The patient will frequently make the comment with this type of nail "even the weight of the bed clothes on it makes it unbearable."
Type 2.
This is a nail that has sides that curl inwards (like a scroll). This can also be very uncomfortable and painful but does not usually present as inflamed, swollen or septic. In this case it is common to find that the reason behind the patient's pain is that there is a corn under the nail (that the patient wouldn't be aware of.)
Both these types of in growing toe nail can be operated on. In the former case (Type 1), it is almost certainly the case that there will not be any other option but to operate if it is a genuinely acute case. Leaving it or treating it conservatively rarely leads to a successful prognosis and is more than likely to prolong the misery of this wretched condition. The latter condition (Type2) can however be managed conservatively for a number of years but can, invariably, like type 1 be "cured" once and for all, by having a minor procedure under local anaesthetic.
The prospect of facing what the patient thinks is going to be an agonising operation, is all too often met with the comment after the operation..."if I knew it was going to be that straight forward and easy I wouldn't have got so worked up about it."
What does nail surgery entail?
Providing the patient is assessed as being a suitable candidate for the procedure, he / she will receive a local anaesthetic in the base of the toe. No further action will be then taken until such time as the patient and clinician are satisfied that the toe is completely numb. Once anaesthetised the side (or sides) of the nail will be removed (about 4 mms) to the base of the nail. A powerful chemical (phenol) is then applied in this same area to destroy the nail bed (where the nail was removed) so as to ensure that this portion of nail never grows again. This simple and straight forward procedure is followed up by having a couple of dressing appointments in the 2 weeks after the operation. It should be added that in about 10% of cases it may be advisable to remove the whole of the nail plate. For cosmetic reasons we do however do our utmost to avoid this option if possible.
For further information on Nail surgery, our other services or conditions we treat please call 01227 360940 / 01795 430020 / 07985014566 or send us an email info@hernebaychiropody.co.uk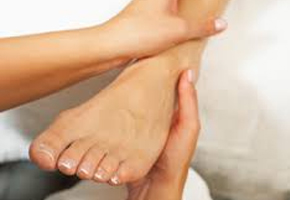 Conditions Treated
All nail conditions (in growing, thick, fungal etc.)
Get in Touch
01227 360940
01795 430020
07985014566
Area we cover
Herne Bay Whitstable Canterbury Sturry - Blean Faversham - Westgate - Tankerton - Medway towns